Beacon
$99
A social theme with a unique homepage layout.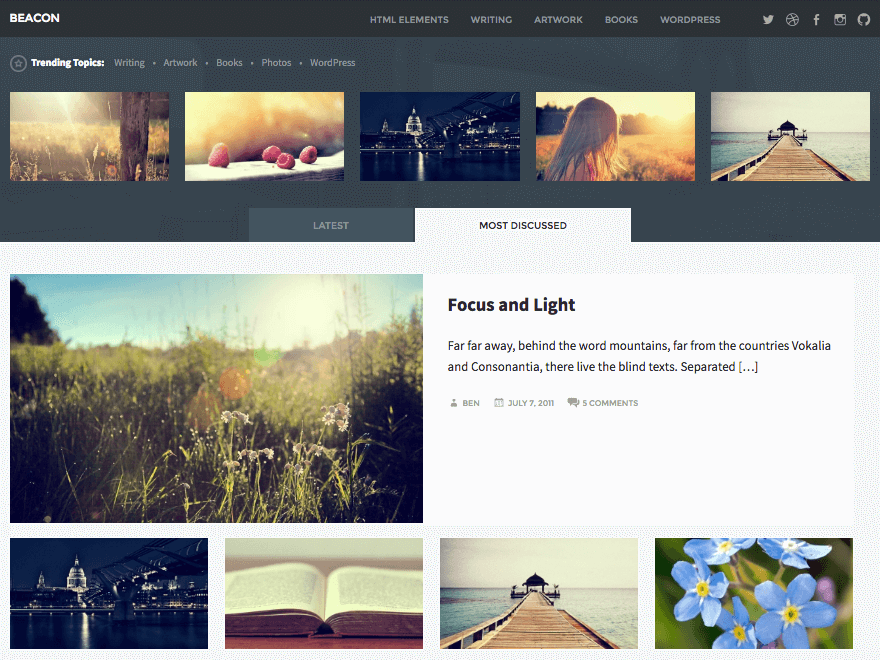 Beacon is a mobile-friendly showcase for viral content and community discussion. It's ideal for community groups and fan clubs, whilst being equally comfortable for powering magazines.
Social Front Page
Beacon is great as a destination site for communities and groups, and to help with this, we added some dynamic social functionality.
Featured Content: The strip of content across the top of the site is the most prominent. Use this to draw people towards your most important, or enticing, articles.
Trending Topics: Beacon displays categories with lots of content to help send people where you post most frequently. This is great for frequent visitors who know what they want to read.
"Most Discussed" Tab: Beacon displays the top 8 posts from the last 3 months, sorted by the number of comments. This means more active posts will get extra exposure.
Your Design, Everywhere
We designed Beacon to look good on all devices – from desktop computers and laptops, to smartphones and tablets.
Front Page Categories
To feature a category grid on the front page, select the category you would like to use in the Customizer. The latest five posts from the category you select will be displayed. The latest post will be the largest at the top with another four posts in a grid below. This category display is perfect for magazine sites, or those with lots of varied content.
All Languages
Beacon was crafted with care to work well in multiple languages, so it has full support for both left-to-right and right-to-left languages and is fully localized. If Beacon is not available in your language, you can find out how to translate it here.
Theme Options
Beacon has a variety of options to allow you to tweak and adjust the theme so that it works exactly as you want. All options work using the Customizer which means you can preview the changes as you make them, safe in the knowledge that your users won't see a broken website.
Widget Areas
Beacon uses custom sidebars to allow you to keep things flexible. All widget areas will stay invisible if you don't add widgets to them.
Footer widget area – displays at the bottom of every page on the site.
Right sidebar widget area – will display on the front page and single posts and pages, but not the archive pages.
Custom Templates
Beacon includes custom page templates, providing additional functionality.
Contributors – A list of all of the contributors to your website—great for magazines and other multi-author blogs—sorted according to how many posts have been published.
Full-Width Page – A normal page without sidebars so that you can have content that stretches the full width of the site.